Programme Offered
On the eve of International Day of Yoga Principal Dr. Jammi Ashok inaugurated the program and stressed emphatically the following points about Yoga to be a part of life.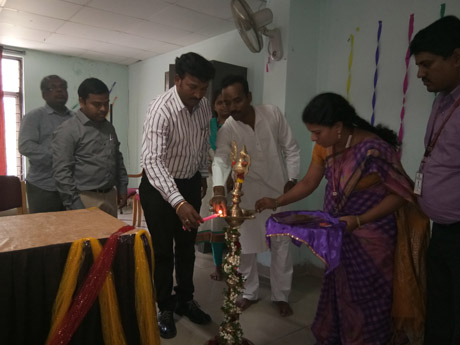 Yoga is an old discipline from India. It is both spiritual and physical. Yoga uses breathing techniques, exercise and meditation. It claims to improve health and happiness. Yoga is the Sanskrit word for union.
The Eight Limbs of Yoga "Patanjali defines yoga as" Yoga Chitta Vritti Nirodha "- Yoga is the cessation of mental fluctuations."Hence, yoga can be defined as a state of complete stillness of mind. To achieve this goal, Patanjali prescribes the eight limbs or stagesevery practitioner must master. Today, Ashtanga yoga (which means 'eight-limbedyoga') is sometimes thought to be a particular style or series of postures. Butthese are really the eight stages described by Patanjali.
They are:
o Yama (Moral Restraints)
o Niyama (Spiritual Practices)
o Asana (Seat Posture With Spine Erect)
o Pranayama (Breath Control)
o Pratyahara (withdrawal of from the organs of sense and the organs of action)
o Dharana (Deep State Of Concentration)
o Dhyana (directing attention to the subject of meditation)
o Samadhi (complete absorption in super consciousness or divine mind)
Members on the dais shared their opinions and ideas so as to connect the life with Yoga to transform the mind and soul in pacify manner.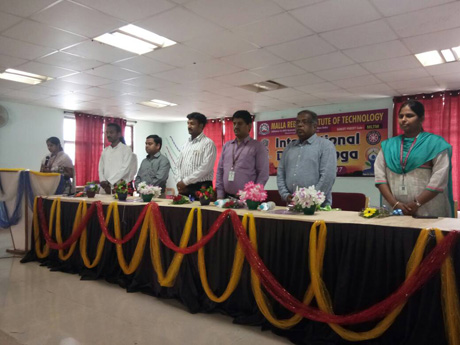 o Prof. R. Madan Mohan Reddy, Professor, Civil Dept.
o Mr. N. Satish Kumar, HOD-CSE
o Mrs. Divya, HOD-ECE
o Dr. G. Srikrishna, HOD-H&S
o Mr.G. Nanda Kishor Kumar, TPO
Have asserted the value of the yoga and meditation to all the members assembled over there, after that videos regarding Yoga are shone and some voluble Yoga asanas are imbibed among members and made them to do it for daily life.